Property Managers have a lot of responsibility for their Corporate, Institutional and Residential clients.  They need a dependable, experienced full-service landscaper to manage their property.  Since 1994, Martin Lawn and Landscaping has specialized in professionally maintaining the finest Washington DC condominium,  HOA,  synagogue,  church and embassy properties.  Our team maintains all aspects of your exterior: from azaleas to zinnias.  After our crews take over, your gardens, lawn and shrubs will reflect an eye-catching beauty!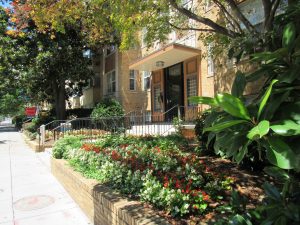 Are your outdoor spaces inviting and clearly defined?  Need a repair of a drainage area or is erosion the villain on your turf?  Not sure when your current crew is knowledgeable and dependable?  Keep your property up-t0-date & competitive.  Perhaps its time to re-evaluate your landscape program and plan upgrades and improved horticultural care.
You focus on your business.  We make sure your lawn and garden are green, well groomed and prepared for Spring!  Call us for grooming, four-season color, manicured gardens, thoughtful design and full service landscaping at 301-565-0556.